Williams Named North Alabama Shoals 2023 Mercy Award Winner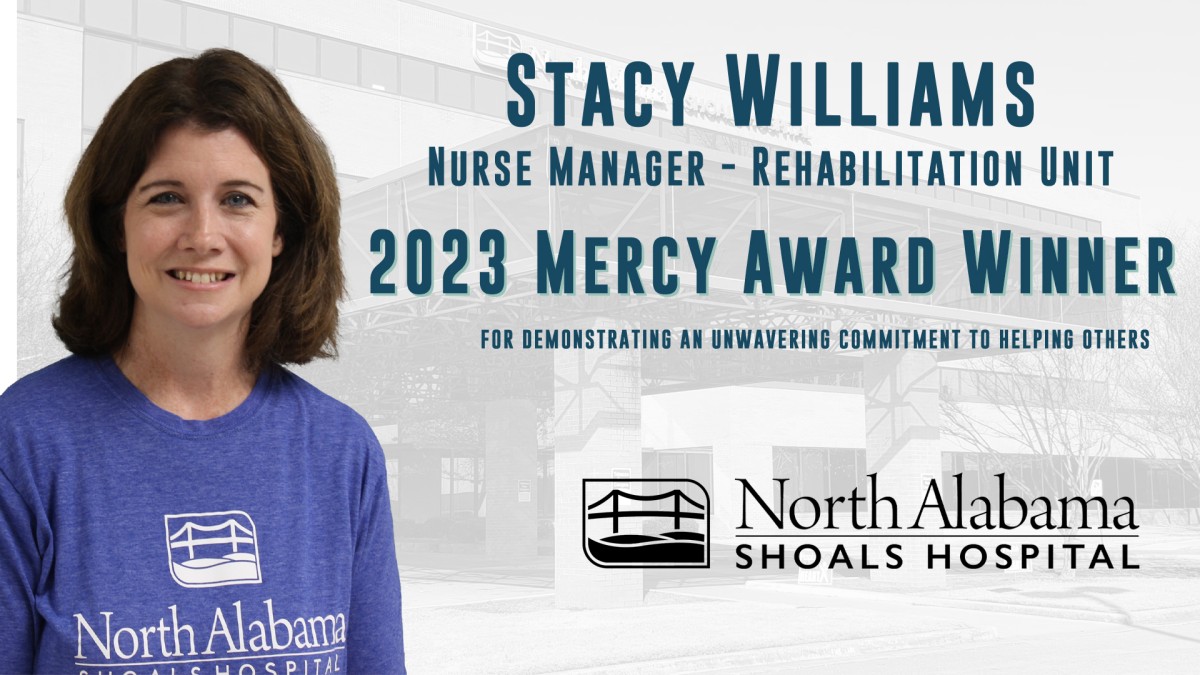 MUSCLE SHOALS, Alabama (May 30, 2023) – North Alabama Shoals Hospital recently announced that nurse manager Stacy Williams has been recognized as the facility's 2023 Mercy Award winner. The Mercy Award recognizes one employee from each of Lifepoint Health's facilities who profoundly touches the lives of others and best represents the spirit and values on which the company was founded.
The Mercy Award is an annual recognition program that honors the life and contributions of Scott Mercy, Lifepoint's founding chairman and chief executive officer. The award is considered the highest honor a Lifepoint employee can receive.
Williams, who has been a registered nurse since 1994, came to work at Shoals Hospital in 1996. She currently serves as the nurse manager for the J.W. Sommer Rehabilitation Unit.
"Stacy leads her clinical team with professionalism and has excellent rapport with her peers and the providers," said Doug Holzbog, North Alabama Shoals Hospital Chief Operating Officer. "She is always looking for ways to challenge her team to provide consistent quality care to the rehabilitation patients. Additionally, Stacy helps other departments as well."
A native of Belgreen, Williams is known for her dedication to her profession as well as her community. She works rounds on all patients each day and ensures their experience is excellent. Patients frequently comment how much her small acts of kindness means to them.
Williams also led the charge in implementing bedside shift report by utilizing a "Rising Star" board. This created fun and friendly competition which spread among the team. The clinical team achieved mastery level rather quickly, which inspired other leaders to implement friendly competition among staff.
Williams is also dedicated to her community and church family as well. For the past 10-plus years she has been providing food and clothing for individuals at her church. She also provides needed items for her employees and has earned the title of "work mother" from many patient care partners who look to her for guidance and support.
"I have known Stacy for 12 years and have worked with her directly for the past 10 years," said Beth Loften, Chief Nursing Officer at North Alabama Shoals Hospital. "She is extremely dedicated to our patients by showing compassion, patience, and empathy. She truly is humble, compassionate and a blessing to our patients and those she meets."
Each facility winner, including North Alabama Shoals Hospital, will be considered for Lifepoint's 2023 companywide Mercy Award. The companywide winner will be announced this summer and honored during a ceremony in Nashville, Tenn., in August.
Read All Posts