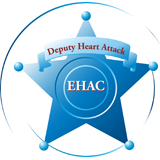 Early Heart Attack Care
The primary goal of Early Heart Attack Care is to promote public awareness that heart attacks have "beginnings" that can occur weeks before the actual attack. EHAC focuses on intervention during these beginnings to help prevent acute myocardial infarction (heart attack) and cardiac arrest. The second goal of EHAC is to teach the public that individuals with heart attack symptoms be evaluated and treated in an emergency department or chest pain center. Learn more at deputyheartattack.org.
North Alabama Shoals Hospital Community Grant Program: Apply Online.