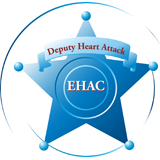 Early Heart Attack Care
The primary goal of Early Heart Attack Care is to promote public awareness that heart attacks have "beginnings" that can occur weeks before the actual attack. EHAC focuses on intervention during these beginnings to help prevent acute myocardial infarction (heart attack) and cardiac arrest. The second goal of EHAC is to teach the public that individuals with heart attack symptoms be evaluated and treated in an emergency department or chest pain center. Learn more at deputyheartattack.org.
Hands only CPR:
Could you save someone's life in case of cardiac arrest? Would you know what to do until help arrives? According to 2014 American Heart Association data, nearly 45 percent of out-of-hospital cardiac arrest victims survived when bystander CPR was administered. When a person collapses suddenly and isn't breathing or has no pulse, bystanders are often reluctant to help with CPR for fear of doing it wrong or making the situation worse. Or they may be uncomfortable with giving mouth-to-mouth breathing to a stranger. But you can be prepared to save a life even if you haven't taken a CPR class. Learning the chest compression component of CPR alone - called Hands-only CPR - could be enough to keep someone alive in an emergency until medical assistance shows up. Hands-only CPR consists of 2 steps: call 911, then push hard and fast in the center of the victim's chest. Hands-only CPR can help a heart attack victim survive 3 to 5 minutes. This may be enough time until emergency medical services arrive.
For more information, CLICK HERE
North Alabama Shoals Hospital Community Grant Program: Apply Online.
Colbert County health rankings:
Health outcomes represent how healthy a county is right now, in terms of length of life but quality of life as well. Colbert (CR) is ranked in the higher middle range of counties in Alabama (Higher 50%-75%).
For complete 2023 rankings, CLICK HERE