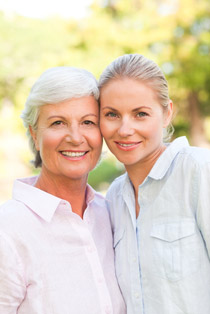 Commonly treated diagnoses:
Dementia
Psychosis
Mood Disorders, including Depression
Clinical Services may include:
Assessment and diagnosis
Short to intermediate term treatment
Stabilization of the patient's acute psychiatric conditions
Pharmacotherapy
Counseling/education/support for the individual and family
Activity and recreation therapy
Occupational therapy
Discharge planning
The geropsych team includes:
Psychiatrists
Nurses
Pharmacists
Social Workers
Occupational therapists
Patient Care Assistants
Individual and daily group psychotherapy play a key role in helping patients enjoy a fulfilling and productive life, while encouraging a sense of competency and hope.
Individual aftercare assistance is available to help ensure that each patient receives support after they return to their previous setting.
The Senior Care Center Referral Process
Consistent with the goal to provide the best geriatric psychological services possible, The Senior Care Center has developed a 4-step referral process to aid in approving appropriate referrals. The four step process includes:
Initial Patient Identification
Appropriate physician order
Verification of benefits
Admission
Initial Patient Identification
The first step is to identify patients who may benefit from the services The Senior Care Center provides, including those exhibiting signs of:
Depression, loneliness, withdrawal
Anxiety
Appetite or sleep disturbance
Difficulty adjusting to a nursing home
Psychosis, including hallucinations and/or delusions
Agitation, irritability
Confusion, memory loss or dementia
Behavioral problems (verbal or physical aggression, sexually inappropriate behavior or non-compliance with ADLs, diet and medication)
Family related issues
Grief, bereavement
A member of The Senior Care Center will be glad to come to your facility and initiate the evaluation process.
Doctor's Orders
Medicare requires that all patients referred have an accompanying doctor's order. These orders must be received and in the patient's chart prior to the initiation of services. These orders may be telephonic orders obtained by the nursing staff.
Verification of Benefits
The Senior Care Center at North Alabama Shoals Hospital bills Medicare and other secondary or supplemental insurances directly. We will need a copy of the Face Sheet, complete with insurance numbers, so that our staff can verify that the patient's benefits are current and cover the services provided. At that time, The Senior Care Center will identify any required co-payments. (Patients with both Medicaid and Medicare are usually covered 100% after deductibles are met.)
Admission
Once the appropriate records are complete, arrangements can be made for the direct admission of the patient to The Senior Care Center. Admissions can take place 24 hours a day. Prior arrangements for daytime weekend admissions can be scheduled. Night-time emergency situations should be sent directly to the Emergency Department at North Alabama Shoals Hospital for evaluation and determination for appropriateness of admission.