Online access to your medical records, 24/7.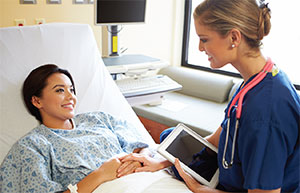 North Alabama Shoals Hospital offers a convenient way for you to manage your healthcare. At home or on the go, your personal health information is just a click away. Simply provide your email address at registration, and sign-up information will arrive in your email box.
You will be asked to create a user name and password. Initially, you will be able to see information about your recent hospital visits, but as the system grows we will offer more features and functionality.
Once you are signed in, and following your discharge, you will have access to these records on a secure and reliable website. The website is HIPAA-compliant and uses encryption technology to safeguard your information.
Patients who register will be able to see:
Summary of your hospital stay
Discharge information
Vital statistics
Lab work and other test results
Medications
Allergies
Personal demographics
Important Contact Information
If you need assistance while an in-patient, please contact us at 256-386-1600.
After discharge, if you need sign-up/access information, please contact Syntellis Customer Service at 1-800-851-5043 or patientportalsupport@syntellis.com.
After accessing your account, if you have questions regarding your medical records, please contact our Medical Records Department at 256-629-1060.