North Alabama Shoals Hospital Urology Now Offering UroLift Services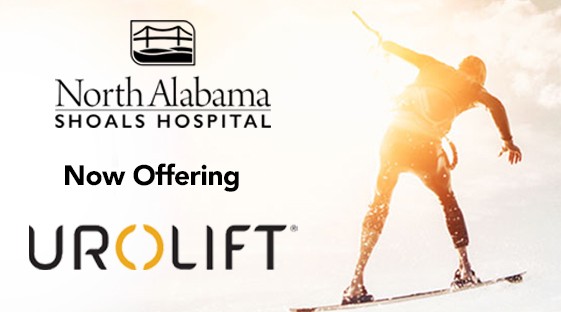 MUSCLE SHOALS, Ala., – Officials at North Alabama Shoals Hospital have announced the addition of the UroLift treatment for benign prostatic hyperplasia (BPH). The procedure, which is the only one of its kind in north Alabama and the surrounding areas, utilizes tiny implants to lift and hold the enlarged prostate tissue out of the way so it no longer blocks the urethra. There is no cutting, heating or removal of prostate tissue.
"As far as non-invasive urological procedures go, this is a game-changer," said urologist Mark Smith, who currently performs the procedure at NASH.
UroLift helps reduce the prostate swelling that inhibits the flow of urine from the urethra. During the procedure, which takes less than an hour, the patient is given mild sedation.
During the procedure, which can be performed on an outpatient basis under local anesthetic block, a small suture connected to an anchor is implanted under endoscopic guidance with the aim of retracting the prostatic urethra toward the prostatic capsule to open the prostatic urethral space.
It is constructed from two tabs, a stainless steel urethral tab and a nitinol capsular tab. A needle is deployed transurethrally beyond the prostatic capsule and delivers suture-based implants that are placed under tension. This mechanically retracts the prostatic lobes to open the prostatic urethral space. Patients recover from the procedure quickly, and return to their normal routines with minimal downtime.
"Shoals Hospital is excited to offer this unique procedure that gives many men a non-invasive treatment option for BPH," said North Alabama Shoals Hospital Chief Operating Officer Doug Holzbog. "We also appreciate Dr. Smith allowing us the opportunity to be a partner in providing this service to the Shoals area."
UroLift has been found to have significantly lower morbidity than other surgical treatments surgical treatments for BPH-associated LUTS. The safe, minimally invasive and highly effective procedure has been used across the country since 2015.
More information on the UroLift procedure can be found at www..urolift.com/what-is-urolift
Read All Posts