Coronavirus (COVID-19) Preparedness Information
Our hospital is committed to providing the highest quality care and ensuring the safety of our patients, employees, providers, volunteers and visitors. We are continuing to monitor the evolving situation with the coronavirus (COVID-19) and are taking the necessary steps to ensure we are fully prepared to care for patients, in accordance with guidance from the Centers for Disease Control and Prevention (CDC) and in partnership with our local and state health departments.
Visitor Guidance
Until further notice, hospital visitors are not permitted.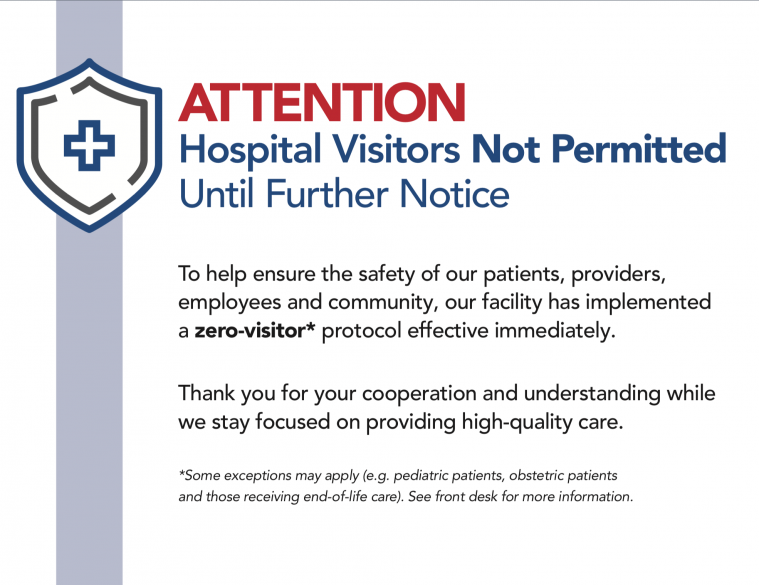 By an order from the Governor of the State of Alabama, all hospitals are required to prohibit visitation of all visitors and non-essential health care personnel, except for certain compassionate care situations, such as pediatric patients, obstetric patients and end-of-life patients.
Thank you for your cooperation as we add measures to protect our patients, visitors, doctors and employees.
Below are a number of resources to help educate you and your family on COVID-19. For more information on the virus, please contact the health department.
Quick Links:
The ADPH Infectious Diseases & Outbreaks Division can be reached at (334) 206-5347 to answer general questions. In addition, citizens can call 211 for answers to common questions regarding coronavirus.
A complete list of frequently asked questions and answers about COVID-19 is available on the CDC website.
COVID-19 Online Risk Assessment
To help support the health of our community, we are providing access to an online COVID-19 risk assessment developed by the Centers for Disease Control and Prevention (CDC). This tool does NOT provide a diagnosis, and it should NOT be used as a substitute for an assessment made by a healthcare provider.
Hand Washing Guidance from the CDC
Wash Your Hands Often to Stay Healthy
You can help yourself and your loved ones stay healthy by washing your hands often, especially during these key times when you are likely to get and spread germs:
Before, during, and after preparing food
Before eating food
Before and after caring for someone at home who is sick with vomiting or diarrhea
Before and after treating a cut or wound
After using the toilet
After changing diapers or cleaning up a child who has used the toilet
After blowing your nose, coughing, or sneezing
After touching an animal, animal feed, or animal waste
After handling pet food or pet treats
After touching garbage
Follow Five Steps to Wash Your Hands the Right Way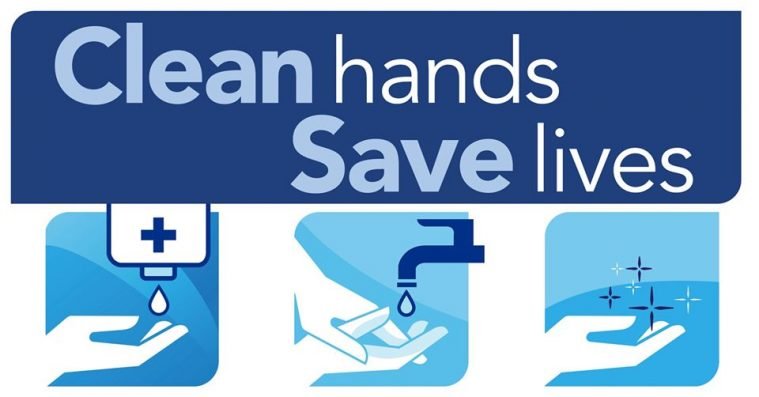 Washing your hands is easy, and it's one of the most effective ways to prevent the spread of germs. Clean hands can stop germs from spreading from one person to another and throughout an entire community—from your home and workplace to childcare facilities and hospitals.
Follow these five steps every time:
Wet your hands with clean, running water (warm or cold), turn off the tap, and apply soap.
Lather your hands by rubbing them together with the soap. Lather the backs of your hands, between your fingers, and under your nails.
Scrub your hands for at least 20 seconds. Need a timer? Hum the "Happy Birthday" song from beginning to end twice.
Rinse your hands well under clean, running water.
Dry your hands using a clean towel or air dry them.
Use Hand Sanitizer When You Can't Use Soap and Water
You can use an alcohol-based hand sanitizer that contains at least 60% alcohol if soap and water are not available.
Washing hands with soap and water is the best way to get rid of germs in most situations. If soap and water are not readily available, you can use an alcohol-based hand sanitizer that contains at least 60% alcohol. You can tell if the sanitizer contains at least 60% alcohol by looking at the product label.
Sanitizers can quickly reduce the number of germs on hands in many situations. However,
Sanitizers do not get rid of all types of germs.
Hand sanitizers may not be as effective when hands are visibly dirty or greasy.
Hand sanitizers might not remove harmful chemicals from hands like pesticides and heavy metals.
Caution! Swallowing alcohol-based hand sanitizers can cause alcohol poisoning if more than a couple of mouthfuls are swallowed. Keep it out of reach of young children and supervise their use.
How to use hand sanitizer:
Apply the gel product to the palm of one hand (read the label to learn the correct amount).
Rub your hands together.
Rub the gel over all the surfaces of your hands and fingers until your hands are dry. This should take around 20 seconds.
For more information, visit the CDC website.